Regular price
Sale price
$21.99 USD
Unit price
per
Sale
Sold out
At The Maine Pie Co. nothing says the holidays like our gluten-free Apple Cranberry Nut Pie. Perfect for any festive occasion, this classic American apple pie features fresh Maine cranberries, plump golden raisins, and chopped pecans. Made with care and crafted by expert hands in our designated gluten-free facility, our Apple Cranberry Nut Pie will leave you saying, "This can't be gluten free, it tastes too good!"

INGREDIENTS:
Crust: The Maine Pie Co. Gluten-Free Mix (White Rice Flour, Brown Rice Flour, Potato Starch, Tapioca Starch), Butter, Eggs, Fresh Lemon Juice, Pure Cane Sugar, Sea Salt, Xanthan Gum.

Filling: Apples, Pure Cane Sugar, Cranberries, Golden Raisins, Pecans, Cornstarch, Cinnamon.

ALLERGY STATEMENT:
Contains milk, eggs, tree nuts. (pecans)

BAKING INSTRUCTIONS: Preheat oven to 425°F. Remove pie from plastic wrapping and bake on bottom rack for 20 minutes, then reduce heat to 350°F. Move pie to the middle rack and continue to bake until the crust is golden and the filling is bubbly (approximately 40-50 minutes). Remove pie from oven and allow to cool for approximately one hour. Enjoy! Convection: Adjust time and temperatures accordingly.
View full details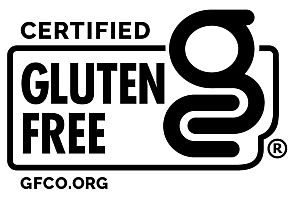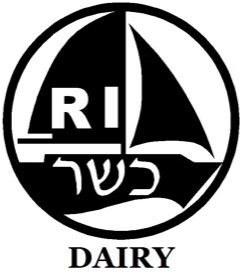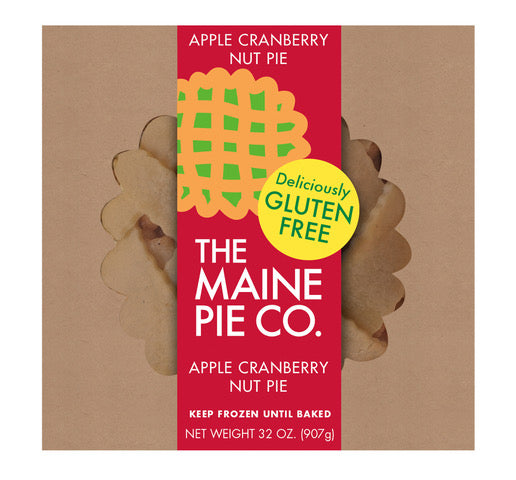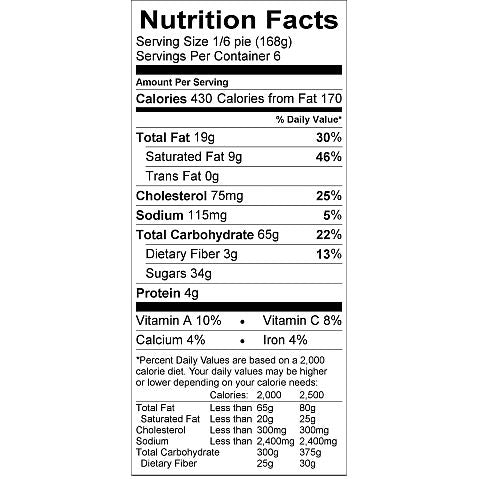 GF pie
I already loved buying your crust bought apple-cranberry and loved every bite. Bought the gift pack of three and sent them to my daughter expexting to be there and eat the others. Sadly got sick with covid and did not get to taste the othet two BUT my daughter and grandchildren raved about them. Thanks for a delicious GF treat
A Bit of Tart
Flavorful pie with pecans and cranberries offsetting some sweetness of the regular apple pie —would love more cranberries and a bit less sugar.
Fell apart and crust was chalky
There were some issues with the pie. First, it completely fell apart when I tried to cut a slice. I followed all cooking directions, and it had sat for a full hour, but it turned into a cobbler rather than a pie. Second, there were hardly any cranberries in the pie. I'd say the balance was 96% apples, 2% nuts, 2% cranberries, which is a shame. Finally, although the bottom crust was very nice, the top crust was very chalky and did not taste very nice. The lattice pattern also didn't cook evenly in my oven. Oh well!
Absolutely amazing!! Great flavor combo.
Waiting for Christmas
We will be enjoying all the pies we ordered when our company comes for the week of Christmas so cannot review until then.